[ECHO] Software Engineering at Google w/ Eve Martin-Jones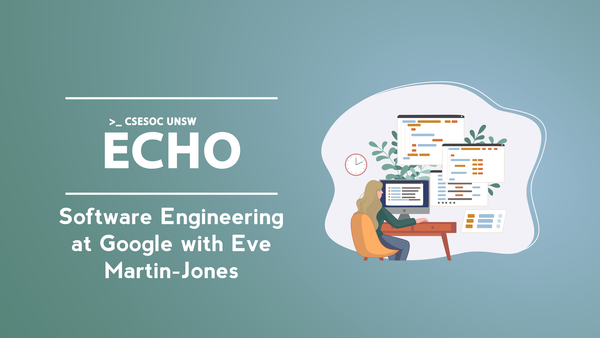 Everyone's thought about working at Google at least once in their life.
But what is it like to actually work there as a 🤔 software engineer 💻?
In this podcast, Mitchell and Michelle are joined by Software Engineer 🤩Eve Martin-Jones🤩, as they dive into the fascinating world of Google. Join us as we navigate through Eve's journey through internships, hardships, and the many rooms at the Google office!
Find the answers to all of your burning 🔥 questions like such as:
What are the different pathways into securing an internship at Google? 🚀
Is the Google office as cool as the rumours say? 😎
What are the biggest challenges working at such a big company? 🥶
Women in the tech industry 💪
How is the work life balance at Google? ⚖️
And more! 👀


Watch here with video on Youtube!
You can also listen on these platforms!
Google Podcasts:  https://cseso.cc/GooglePodcastSoftwareEngineeringAtGoogle
Apple Podcasts: https://cseso.cc/ApplePodcastSoftwareEngineeringAtGoogle
Timestamps:
(00:00) Intro
(00:42) From Philosophy to Software Engineering
(04:09) The Google Internship Experience + The Google STEP Program
(15:28) Google Headquarters & Perks
(19:43) What is it like working at Google?
(33:26) Looking to the future and reflecting on the past
(36:02) Women in Technology
(40:09) Inspiration + Giving Advice