Optimise Your Study Life: Study Apps
In the second part of this series, Alex Xu walks us through study apps you can use to boost your productivity!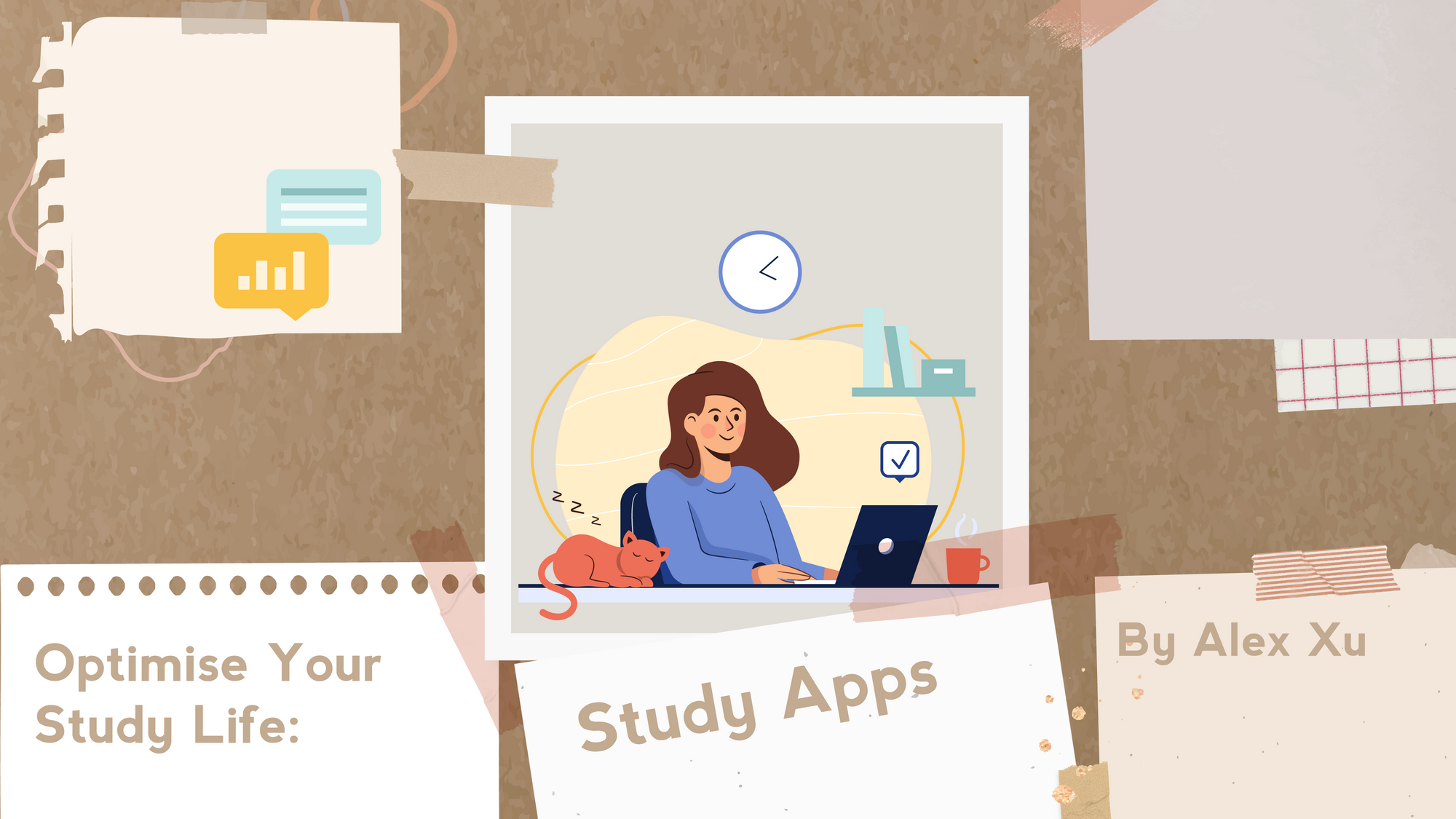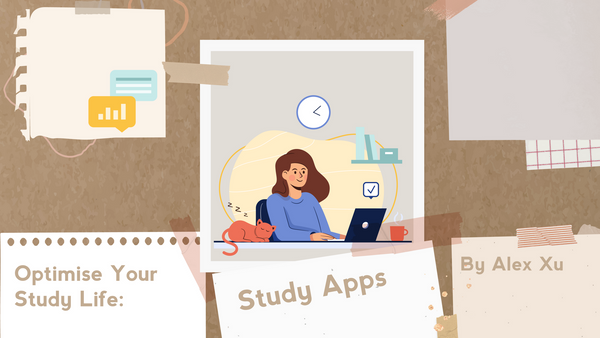 What is an engineer without good tools? And if we students want to engineer our futures, we too need the best tools to help us along the way. Luckily for us, this digital age can provide us all sorts of marvelous things in an instant. So, we've compiled a few recommendations and reviews of study apps that can help you get back on track of your studies.
To Do Lists
To do lists provide a simple overview of the tasks at hand. It's a straightforward tool that is very useful for breaking down a large task or project into small, more manageable tasks.
Google Tasks
Google Tasks is a lovely, simple to-do list for everyday use. For desktop users, Google Tasks can be found on the right panel of most Google Web Apps (Google Drive, Google Docs, Google Calendar, Gmail, etc.). There is a mobile app for Google Tasks that can be found on the App Store and Google Play.
Pros: Google Tasks integrates with your Google Calendar, displaying and notifying any tasks on your calendar when due. It's perfect for more broad and repeated action items like 'doing the laundry'.
Cons: The interface is too simple, almost bland. Editing tasks is very finicky. You're only able to add subtasks once the main task is created, making the process of creating detailed todos frustrating. You can't set an already created task to repeat, forcing you to create a new task.
Get it on:
Verdict: Great for regular/invested users of Google apps and has great synergy with Google Calendar, but the design makes more detailed task planning less satisfying.
Overall rating: 7/10.
Microsoft To Do
Microsoft To Do is one of the finest to do lists out there. It's designed well with Outlook integration as well as a mobile app on Android and iOS.
Pros: It has a clean design with a stunning interface. Creating tasks is easy and straightforward. It's even got a delightful sound effect when ticking off a task.
Cons: It syncs your lists to Outlook, but not with Google or the Windows Calendar app.
Get it on:
Verdict: A great choice for those who want a good-looking and easy to use to do list that makes planning tasks enjoyable.
Overall rating: 8/10.
Study Timers
Study timers are like ice creams.  They're everywhere, come in a bunch of flavours, and there seems to be more and more variations with bits and blobs of other things in them. But at its very simplest, a study timer is a tool to help you space out your study sessions into small, manageable bites.
Pomatez
Pomatez is an open source desktop pomodoro timer that gets the job done.
Pros: A sleek and simple pomodoro timer with adjustable interval lengths and a built in todo list.
Cons: Keyboard shortcuts to perform cannot be changed.
Get it on:
Read more about it here.
Verdict: A relatively simple and cleanly designed timer, suitable for use on any occasion.
Overall rating: 8/10.
Windows 11 Clock App
The clock app that comes with Windows 11 has a great focus sessions feature. By default, you can set the total amount of time you plan to study for and the app will set the interval and break sessions for you. If you don't like the automatic adjustment, you can change the study intervals to your taste.
Pros: This app has a straightforward and clean interface, integrating the Microsoft To Do app and adds Spotify shortcuts to easily start playing your favourite playlists. Whilst in a focus session, you can pop-out the timer to keep track of your progress.
Cons: Windows 11 exclusive. If you're still sporting Windows 10, you won't be able to find the app with the focus sessions feature.
Get it on:
Verdict: If you want a centralised study app with Microsoft To Do and Spotify integration, this one's for you.
Overall rating: 8/10.
Forest
Forest is a special pomodoro timer with a unique app blocking function. Instead of blocking access to apps, it instead tries to get you into the habit of focusing on work and avoid distractions on your own accord. Forest features a minigame of sorts. When you open the app and begin your focus session, a small tree pops up on screen. Exit the app and the tree dies. Nothing like turning a focus session into a hostage situation.
Pros: A fun way to stay focused, Forest trains your self control whilst allowing you to get tasks done. Every tree you acquire adds to your virtual forest, giving users a nice incentive to focus in the long-run.
Cons: Forest relies entirely on the user's will. If you don't care about the tree, nothing's stopping you from accessing Instagram instead of focusing.
Get it on:
Verdict: A fun and rewarding app that requires a bit of willpower and investment from users.
Overall rating: 7/10.
Tide
Tide is yet another pomodoro timer but with soundscapes - collections of soothing sounds and melodies. Sometimes a bit of sound can create that ambience that gets us in the zone. Tide features a collection of soundscapes which can be played as you focus, sleep or relax. Tide also adds narrated meditation to help you with stress, sleep and concentration among other things.
Pros: A very elegant UI design which exudes comfort whilst still being intuitive and easy to use. A generous collection of free soundscapes and meditation sessions for new users to experiment with. You can also mix your own custom soundscape by combining them. Boasts an immersive mode that ends an active focus session if you leave the app.
Cons: Many exclusive soundscapes (like the lo-fi melodies) are locked behind a Tide Plus subscription, which is quite pricey.
Get it on:
Verdict: A beautiful app that offers so much support to relieve the burdens of life whilst keeping it productive and tranquil.
Overall rating: 9/10.
Kanban
Kanban ("signboard" in Japanese) provides a more spread out view of the tasks you're planning to do and those that are in the process of completing. They're great for team projects where you have many tasks with various deadlines assigned to different people. These tasks can be grouped under status of completion, date due or however you want by customising them with tags.
Trello
Trello is quite a powerful Kanban task board tool that's great for individual and group project management.
Pros: Trello sports a colourful design packed with a myriad of features to take the burden off project management. Collaborating with others is a simple invite away. It boasts a host of powerful tools and functions to make your projects easy to manage and stay on track.
Cons: Many useful features are either limited or locked behind a plan. The UI is also quite difficult to get the hang of, especially for new users. Trello makes use of right clicking cards to access its quick actions, which may not appear obvious at first. Deleting cards is labourious as Trello prefers archiving over deletion. It will take some experimenting around to grasp the basics of Trello.
Get it on:
Verdict: Trello can be a very powerful tool for those who put in the time and effort to learn it properly. For the everyday user, it can be daunting to approach its feature packed interface.
Overall rating: 7.5/10.
Flashcards
In content heavy courses where memorising definitions is vital, flashcards serve as a great tool in bolstering your learning.
Anki
Anki is a lightweight flashcard software application that's great for learning a variety of subjects, from languages to medical terms.
Pros: Anki uses spaced repetition to help you learn the flashcards you have most trouble with. That is, the cards you have more difficulty with appear more often. It has a very simple, practical interface. Through add-ons, you can spice up the user experience. User created decks are often of high quality. You can also find shared flashcard decks created by others here.
Cons: The interface may be a little bland. Finding flashcards sets that fit your needs is a little difficult and the deck previews may not be very clear. If you can't find the decks you need, you'll need to create your own (See here for tips).
Get it on:
Verdict: A superb choice if you want effective learning that shows results and high quality flashcard decks.
Overall rating: 8.5/10.
Quizlet
Quizlet focuses more on community and sharing for studying flashcards with sharing flashcards with the public so that anyone can study a certain topic.
Pros: Quizlet has more features such as gamification that can make studying flashcards more fun. It's also more accessible so has more content created by others on a wide range of subjects and courses. If you're looking to revise something, chances are it's already on Quizlet.
Cons: There's no spaced repetition and some features (removing ads, offline access and a personalised learning experience) are locked behind a subscription. Many flashcard sets are incomplete and not often of high quality.
Get it on:
Verdict: A treasure trove of topics and subjects to get you started, but lacking completion and quality.
Overall rating: 7/10.
OneNote - Mediocre but Manageable
Microsoft's OneNote is a simple-to-use note taking software with a colourful interface. It's centrality revolves around note taking in a notebook. It's essentially a virtual notebook. It organises notes in a hierarchy of notebooks → sections → pages. And like a physical notebook, you can type anywhere on a page.
Pros: The interface is clean and colourful, with colour coding capabilities. Note-taking is rather straightforward and simple, nothing too finicky. There's a handy Ink to Shaper, Ink to Text, and Ink to Math feature that converts anything you've drawn. Everything syncs to your Microsoft account for easy access on the go.
Cons: It's basically MS Word, but everything's in a textbox. And like most MS Office apps, there's no keyboard shortcut for horizontal scrolling, making it very hard to navigate quickly on pages with a lot of content.
Get it on:
Verdict: A simple digital notebook with Word-like functions. It has a unrestricted feel to it that makes it great for drawing and handwritten content like math but not so good for typing notes.
Overall rating: 7/10.
Notion - The King of Study Apps
Notion is wonderful. Wonderfully versatile and effective at managing your day-to-day needs for work and study. Notion has a refined aesthetic and clean UI, making work and study a simple and enjoying experience. From making your own todo lists to managing projects with a kanban database, Notion has it all.
Databases
The core feature of Notion is the database. With this, the possibilities are practically limitless. Turn a table into a calendar. A kanban board can become a timeline. Whatever format is to your tastes, you can turn a database into it. Finding the kanban board difficult to add detailed tasks? Add a table view and insert all the details into each field.
And these databases can have relational links between one another. If you want to display when your next deadline for a course is, you can do that. It's great for organising your workflow, having an "at a glance" list that focuses on the most urgent tasks and a "master list" with all your pending tasks.
Functions
With functions, you can now convert data into whatever you want. Take all completed tasks and add a ticked checkbox to them. Functions add just a little more freedom and spice to your workflow. It will take a bit to get used to, but the customisation given to you is a powerful tool.
Synced Blocks
Synced blocks do as the name suggests. Any changes that occur within one synced block will be replicated simultaneously in all other blocks synced to it. This makes repeated or deeply nested content much easier to edit.
Templates
Don't know where to start? Notion seem too overwhelming? Well fret not. Start your Notion journey with the many ready made templates placed right at your fingertips. From design and engineering to sales and HR templates, there is a tonne of guidance and support to help you along the way. And if you can't find what you're looking for, try the community templates here: https://www.notion.so/templates.
Pricing
Notion has a lot of great features and you might think many of these are hidden behind a paywall. But surprisingly, Notion is quite generous. In terms of work-related features, its free plan really only limits collaboration and your file upload sizes. The paid plans provide more security and support but are really aimed for professional working teams and organisations. A free personal account should be enough for the average user.

But what if you want that unlimited file upload size? Well if you're a student you may be in luck. If you sign up with your registered school email, there is a good chance Notion will give you the Personal Pro plan as an education plan, meaning you pay nothing. For existing students, you can try changing your email.
Get it on:
Verdict
Notion provides you with the ultimate work and study tools with so much variation and customisation to suit your specific needs, all fused in one beautiful, glorious package.
Rating - 9.5/10.
Parting Words
And that's it! A glorious collection of recommendations and reviews for some of the best and most useful study apps out there. We hope you can pick a few that suit your needs and wish you the very best as you optimise your studies.